Places to Visit in Merchants Quay, County Waterford, Republic of Ireland
---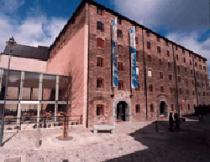 Waterford Museum of Treasures
The Granary

Merchants Quay
County Waterford
Tel: +353(0)51 304500
Fax: +353(0)51 304501
Email: click here
Website: click here


HISTORIC HOUSES, CASTLES, GARDENS AND MUSEUMS IN COUNTY WATERFORD
All-Ireland Museum of the Year 1999/2000, Irish American Cultural Institute Heritage Award 2000 and Runner-up European Museaum of the year 2002.
Located on the historic quays of Ireland's oldest city in a superbly renovated Granary, Waterford Treasures Museum brings to life the last thousand years of Irish history, using original artefacts from the Viking period up to the present day, in a breathtaking and dynamic modern exhibition. Our internationally important collection of historic and archaeological treasures is brought to life using seven audio-visual presentations and three interactive pods, including a virtual voyage in a Viking boat and a re-enactment of the wedding of Strongbow and Aoife, the most famous marriage in Irish history.
Sound guides are available in 6 languages (included in the admission price). Fully wheelchair accessible.
Highlights of the Waterford Treasure Collection:
• Viking Age jewellery including the exquisite kite brooch, the finest piece of 12th century jewellery in Ireland, c.1100
• Only complete medieval longbow in Britain or Ireland, c.1170
• Earliest gold ring brooch in Europe, in fashion for 400 years, made in Waterford c.1210
• Finest collection in Ireland of illuminated medieval civic charters – including the remarkable Charter Roll (1372)
• 1361-1649 Great Parchment Book – described as late medieval Ireland's equivalent of the Book of Kells, the earliest official use of the English language in Ireland, predating the use of the vernacular by the London parliament by one year
• 1480 Waterford vestments, the only complete set of pre-Reformation vestments to survive in Britain or Ireland
• Cap of maintenance & sword, gifts of Henry VIII to the Mayor of Waterford – oldest cap of maintenance in Europe and recently discovered to be the only surviving piece of Henry's wardrobe
• One of Ireland's finest displays of early Waterford glass
• 18th century silverware including rare provincial silver
• Regalia of Thomas Francis Meagher
• The Boneparte-Wyse family collection, including the jet cross worn by Napoleon's mother, commissioned on the death of the Emperor.
Unsolicited comments include: "the best museum we have visited in Europe" (US). "A fine model for other town and city museums" (Sunday Business Post, September 2001). "Would that our own city museum were as good" (UK).
Facilities
Museum, restaurant, gift shop, toilets, exhibition/function gallery, craftworkers gallery, South-East Tourism office, theatre.restaurant facilities.
In case of alteration, please check prices, opening times and any specific important information before booking or visiting