Bed and Breakfast in County Kerry, Republic of Ireland.
---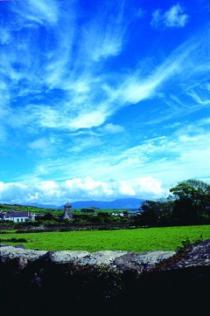 West of Dingle†
County Kerry shares the South West corner of Ireland with County Cork and is one of Irelandís most popular destinations.

Here amidst mountains and peninsulas you will find some of Irelandís most breathtaking scenery. Hazy mountain panoramas shimmering in the pearly ocean light, rattling streams of sparkling clear water tumbling down wooded slopes. You can spend days just watching and wondering at the splendour of the views as you take the 21-kilometre scenic route over the twisting Mollís
Gap road to Killarney, or the 112-kilometre winding lanes to the Ring of Kerry, the regionís tourist honeypot.

Killarney has been welcoming visitors for 250 years and is undoubtedly the birthplace of Irish Tourism. In that time it has extended its unique and warm hospitality to poets, artists, composers and monarchs - all being enchanted by its beauty and many expressing their joy in words, music and on canvas.

The Town of Killarney is an essential stopping point all the same from where you can tour around The Killarney National
Park. Kenmare and Listowel are well worth a visit too.

Thanks to the warmth of the Gulf Stream, the weather here is mild and even-tempered all year around. Youíll find palm trees and many exotic plants growing, while puffins and seals play on the rocks.
Bed and Breakfast in County Kerry
Click For List of all Ireland Counties
Where to stay and things to do in County Kerry
Hotels | Bed and Breakfast | Places to Visit | Gardens | Castles | Weddings and Conferences | Abbeys and Priories | Heritage Centres | Historic County Kerry
County Links
Republic of Ireland
County Carlow | County Cavan | County Clare | County Cork | County Donegal | County Dublin | County Galway | County Kerry | County Kildare | County Kilkenny | County Laois | County Leitrim | County Limerick | County Longford | County Louth | County Mayo | County Meath | County Offaly | County Roscommon | County Sligo | County Tipperary | County Waterford | County Westmeath | County Wexford | County Wicklow | Dublin City |
Northern Ireland
Belfast | County Antrim | County Armagh | County Coleraine | County Down | County Fermanagh | County Londonderry | County Monaghan | County Omagh | County Tyrone | Derry City |