Castles in County Kilkenny, Republic of Ireland.
---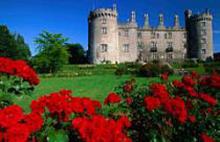 Kilkenny Castle
County Kilkenny is one of Ireland's most historic counties and located in the south east of Ireland bordered by Laois to the north, Carlow and Wexford to the east and Tipperary and Waterford to the west and south west respectively.
The county town of Kilkenny is the home of Kilkenny Castle which has been standing for over eight hundred years, dominating Kilkenny city and the south-east of Ireland. It was originally built as the symbol and reality of Norman control in the area, and it has continued throughout the many different periods of Irish history to symbolise the fortunes of one of the most powerful Irish families, The Butlers of Ormonde.
As a centre of civilisation and culture for more than a millennium, Kilkenny offers a unique selection of historic sites and buildings from the seventh century A.D. onwards. These reflect the city's status and heritage as 'Ireland's Medieval Capital'.
Rothe House is an example of a typical middle class house of the Tudor period. It was built by a rich merchant, John Rothe and his wife Rose Archer during the years 1594-1610. Rothe placed his arms and those of his wife over the main gate, where they may still be seen.
The city of Kilkenny also plays host to one of the world's top comedy festivals, The Cat Laughs Comedy Festivals, whereupon comedy acts from all over the world gather to offer some fantastic entertainment.
Kilkenny is a vibrant place with its of restaurants, bars and cafes and festivalls making it an extremely appealing Irish destination.
Other attractions in Kilkenny include Dunmore Cave, Jerpoint Abbey, Rothe House, St. Canices Cathedral, Lord Meagher Home & GAA Museum.






Castles in County Kilkenny
Click For List of all Ireland Counties
Where to stay and things to do in County Kilkenny
Hotels | Places to Visit | Castles | Weddings and Conferences | Abbeys and Priories |
County Links
Republic of Ireland
County Carlow | County Cavan | County Clare | County Cork | County Donegal | County Dublin | County Galway | County Kerry | County Kildare | County Kilkenny | County Laois | County Leitrim | County Limerick | County Longford | County Louth | County Mayo | County Meath | County Offaly | County Roscommon | County Sligo | County Tipperary | County Waterford | County Westmeath | County Wexford | County Wicklow | Dublin City |
Northern Ireland
Belfast | County Antrim | County Armagh | County Coleraine | County Down | County Fermanagh | County Londonderry | County Monaghan | County Omagh | County Tyrone | Derry City |