Hotels in County Cork, Republic of Ireland.
---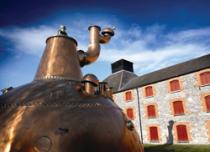 Old Midleton Distillery
County Cork is the southernmost county in Ireland sandwiched between Waterford and Kerry to the east and west respectively and the County Limerick and County Tipperary to the north and north east.
County Cork is the largest county in Ireland, has a population of around 450,000 and Cork, its county town, is Ireland's second city.
This beautiful county has many claims to fame including the town of Kinsale which is largely regarded as Ireland's capital of cuisine. The county is also birthplace of both Michael Collins and Roy Keane and was the last port of call for the Titanic before its tragic demise 1912.
Cork stands on the River Lee and is one of ireland's major ports. Cork City was oriniganly named Corcash which means Marshy Place because of its position on the River Lee.
The county is famous for the annual Cork Jazz Festival and Cork Film Festival.
Hisoric attractions in the area include:- Cobh the Queenstown & Titantic Story, Blarney Castle, Jameson Heritage Centre, St Finbarrs Cathedral, West Cork Model Railway Village, Cloyne Cathedran and Round Tower, Berwick fountain, Tullylease Church.
Hotels in County Cork
Click For List of all Ireland Counties
Where to stay and things to do in County Cork
Hotels | Places to Visit | Museums and Art Galleries | Castles | Weddings and Conferences | Heritage Centres |
County Links
Republic of Ireland
County Carlow | County Cavan | County Clare | County Cork | County Donegal | County Dublin | County Galway | County Kerry | County Kildare | County Kilkenny | County Laois | County Leitrim | County Limerick | County Longford | County Louth | County Mayo | County Meath | County Offaly | County Roscommon | County Sligo | County Tipperary | County Waterford | County Westmeath | County Wexford | County Wicklow | Dublin City |
Northern Ireland
Belfast | County Antrim | County Armagh | County Coleraine | County Down | County Fermanagh | County Londonderry | County Monaghan | County Omagh | County Tyrone | Derry City |