Railways in County Donegal, Republic of Ireland.
---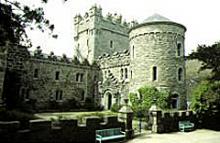 Glenveagh National Park
The most northern of Southern Ireland's counties is county Donegal which sits on the north and north west coast adjacent to Northern Ireland in the east and Sligo to the South with The Atlantic Ocean crashing against its wild and rugged coastline.
This county is not the most frequently visited by the overseas tourist which makes it even more attractive with its sandy beaches, mountains and many historic attractions and heritage sites which include St Eunan's Cathedral, Doe Castle, Donegal Castle, Kilclooney More, Ballyshannon Heritage Town, Glencolumbkille, Cloghanmore, Vintage Car Museum, Glenveagh National Park, Glebe House and Gallery.
Railways in County Donegal
Click For List of all Ireland Counties
Where to stay and things to do in County Donegal
Hotels | Bed and Breakfast | Places to Visit | Museums and Art Galleries | Gardens | Castles | Railways | Heritage Centres |
County Links
Republic of Ireland
County Carlow | County Cavan | County Clare | County Cork | County Donegal | County Dublin | County Galway | County Kerry | County Kildare | County Kilkenny | County Laois | County Leitrim | County Limerick | County Longford | County Louth | County Mayo | County Meath | County Offaly | County Roscommon | County Sligo | County Tipperary | County Waterford | County Westmeath | County Wexford | County Wicklow | Dublin City |
Northern Ireland
Belfast | County Antrim | County Armagh | County Coleraine | County Down | County Fermanagh | County Londonderry | County Monaghan | County Omagh | County Tyrone | Derry City |