County Wicklow, Republic of Ireland
---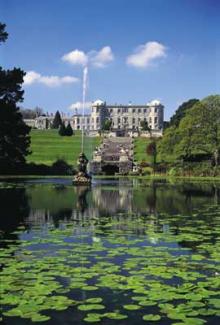 Powerscourt House and Gardens
County Wicklow is often referred to as the "Garden of Ireland" and is situated to the south of Dublin with County Kildare to the West and the counties of Carlow and Wexford to the south.
This east coast county is blessed with splendid scenery, a spectacular coastline, the mysterious Wicklow Mountain range and many historic houses monuments, abbeys and ruins including Powerscourt House and Gardens in Enniskerry, The Cathedral and Round Tower at Glendalough, Avondale Hoiuse at Rathdrum, Caslteruddery Stone Circle and Motte in Wicklow, Carnew Castle in Carnew and Baltinglass Cistercian Abbey in Baltinglass to mention just a few.
In short County Wicklow has a rich heritage for you to explore and being a stone's throw from Dublin makes it a very popular weekend break destination as well as longer holidays.


Where to stay and things to do in County Wicklow
Hotels | Bed and Breakfast | Places to Visit | Gardens | Weddings and Conferences | Tourist Information Centres | County Wicklow Towns
Selected County Wicklow hotels - Please Refresh for another random Hotel list
The Ritz Carlton Powerscourt Hotel, Enniskerry
Summerhill House Hotel, Enniskerry
Woodland Court Hotel, Bray
Esplanade Hotel
& Fitness centre, Bray
Brooklodge Hotel & Wells Spa, Macreddin
Royal Hotel & Leisure Centre, Bray
Lawless's Hotel & Holiday Village, Aughrim
Brook Lodge & Wells Spa Hotel, Macreddin Village
Ramada Woodland Court Hotel, Bray

Click For List of all Ireland Counties
Explore County Wicklow Towns
Aughrim | Bray | Enniskerry | Glen O'The Downs | Glendalough | Kilcoole | Knockanarrigan | Macreddin | Macreddin Village | Rathdrum | Wicklow |
County Links
Republic of Ireland
County Carlow | County Cavan | County Clare | County Cork | County Donegal | County Dublin | County Galway | County Kerry | County Kildare | County Kilkenny | County Laois | County Leitrim | County Limerick | County Longford | County Louth | County Mayo | County Meath | County Offaly | County Roscommon | County Sligo | County Tipperary | County Waterford | County Westmeath | County Wexford | County Wicklow | Dublin City |
Northern Ireland
Belfast | County Antrim | County Armagh | County Coleraine | County Down | County Fermanagh | County Londonderry | County Monaghan | County Omagh | County Tyrone | Derry City |