Ireland West
---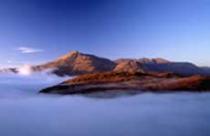 Mweelrea Mountains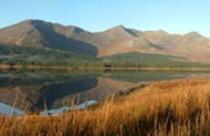 The Inagh Valley
Ireland West
Galway, Mayo and Roscommon make up the region of Ireland West
Galway
Galway is a city, a county, and an experience to be savoured and remembered. The historic city of the tribes dances to a beat uniquely it's own. There is certain chemistry and vibrancy to this friendly University City, which many delight in, and few forget. Music, festivals, horse racing, pubs, restaurants, shops, theatres and most of all Galway people, combine to create this atmospheric mediaeval city of culture. From this pulsating heart the rest of the county flows. Galway Bay, immortalised in song, its beauty unchanging. Scenic Gaeltacht areas including the Aran Islands. Connemara, with the picturesque town of Clifden as its capital. Mountains, castles and stone walls, banks of turf, long sandy beaches, clear lakes, joyful leaping streams and flowing rivers. Delightful countryside punctuated by pretty villages, and traditional pubs.
Mayo
Jutting proudly into the Atlantic Ocean, County Mayo boasts a stunningly beautiful unspoilt environment with a magical attraction for visitors. Cosmopolitan towns such as Westport positively burst with charm and personality, as welcoming as the Mayo people themselves. The standard and availability of accommodation is excellent. Unique attractions include Croagh Patrick, Ireland's holy mountain with the starkly beautiful National Famine Memorial at its foot and Knock Shrine, scene of an miraculous apparition in 1879.
History comes alive at the world famous Céide Fields near Ballycastle in North Mayo, at The Foxford Woollen Mills, Hennigans Heritage Farm and the new National Museum of Ireland's Museum of Country Life, which opened in Autumn 2001 just outside Castlebar, the county town. Sporting opportunities abound especially fishing of all sorts including the River Moy in Ballina where the salmon is king. There are watersports, hiking and walking, golf links and courses, horseriding and cycling… the list is endless. Sandy beaches, clear waters and beautiful islands. Superb restaurants, pubs of character and of course the irresistable tumbling melodies of traditional Irish music spilling onto the streets. Quite simply Mayo is Amazing!
Roscommon
Roscommon offers an enchanting glimpse of hidden treasure to those who seek. Brimful of history and heritage, Roscommon boasts many archaeological structures including Rathcroghan, ancient home of the High Kings. From more recent times, great houses and castles are to be found. Here, a more tranquil and serene beauty reigns, framed by mountain, moor land and lake. Nature and wildlife flourish in undisturbed habitat. The warmth of the people is tangible, part of the essence of the county.
More information?

Web: www.irelandwest.ie/?id=1
Email: info@irelandwest.ie
Tel: +353 (0)91 537700
Fax: +353 (0)91 537733
Ireland Heritage links
County Carlow | Dublin | East Coast and Midlands | HISTORIC IRELAND | Ireland West | North West Ireland | OPW Heritage Card | Shannon, Bunratty Castle and Folk Park | South East Ireland | South West Ireland | TOURISM IRELAND |
Republic of Ireland Heritage links
County Kerry Killarney |
County Information
Republic of Ireland
County Carlow | County Cavan | County Clare | County Cork | County Donegal | County Dublin | County Galway | County Kerry | County Kildare | County Kilkenny | County Laois | County Leitrim | County Limerick | County Longford | County Louth | County Mayo | County Meath | County Offaly | County Roscommon | County Sligo | County Tipperary | County Waterford | County Westmeath | County Wexford | County Wicklow | Dublin City |
Northern Ireland
Belfast | County Antrim | County Armagh | County Coleraine | County Down | County Fermanagh | County Londonderry | County Monaghan | County Omagh | County Tyrone | Derry City |