Shannon, Bunratty Castle and Folk Park
---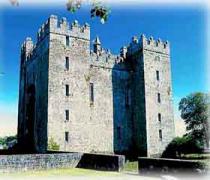 Bunratty Castle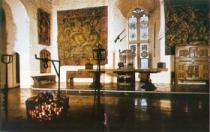 The Great Hall
Shannon, Bunratty Castle and Folk Park
At Ireland's premier visitor attraction you can take pleasure in two wonderful experiences together on one site – the acclaimed 15th century Bunratty Castle and 19th century Bunratty Folk Park.
The Castle is the most complete and authentic medieval fortress in Ireland. Built in 1425 it was restored in 1954 to its former medieval splendour. It now contains mainly 15th and 16th century furnishings, tapestries, and works of art which capture the mood of the times. You can marvel at the finest collection of medieval furniture in the country, which brings to life a vital part of our Celtic. At night time the castle is the impressive setting for medieval banquets which are held year round.
Within the grounds of Bunratty Castle is Bunratty Folk Park where 19th century life is vividly recreated. Set on 26 acres the impressive Park features over 30 buildings in a 'living' village and rural setting. Meet and chat with the Bean an Ti (Woman of the House) and various street characters including the Policeman and Schoolteacher who give the site its sparkle. Enjoy the tastes, scents, sights and sounds of this enchanting place as you stroll from house to house or around the charming village complete with school, post office, doctors house, hardware shop, printers and of course the pub!. It's a wonderful experience for adults and children alike with something for everyone!
Step into the Tea Room or Mac's pub and savour the taste of home made (on the grounds) Apple Pie or scones ……a taste so good it will have you licking your fingers…!
More information?
Contact:
Shannon Heritage
Bunratty Castle & Folk Park
County Clare
Ireland
Web: shannonheritage.com
Email: reservations@shannondev.ie
Tel: +353 (0)61 360788
Fax: +353 (0)61 472523
Ireland Heritage links
County Carlow | Dublin | East Coast and Midlands | HISTORIC IRELAND | Ireland West | North West Ireland | OPW Heritage Card | Shannon, Bunratty Castle and Folk Park | South East Ireland | South West Ireland | TOURISM IRELAND |
Republic of Ireland Heritage links
County Kerry Killarney |
County Information
Republic of Ireland
County Carlow | County Cavan | County Clare | County Cork | County Donegal | County Dublin | County Galway | County Kerry | County Kildare | County Kilkenny | County Laois | County Leitrim | County Limerick | County Longford | County Louth | County Mayo | County Meath | County Offaly | County Roscommon | County Sligo | County Tipperary | County Waterford | County Westmeath | County Wexford | County Wicklow | Dublin City |
Northern Ireland
Belfast | County Antrim | County Armagh | County Coleraine | County Down | County Fermanagh | County Londonderry | County Monaghan | County Omagh | County Tyrone | Derry City |