Places to Visit in Blarney, County Cork, Republic of Ireland
---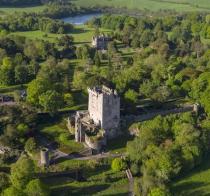 Blarney Castle
Blarney
County Cork
Tel: +353 (0) 21 438 5252
Fax: +353 (0) 21 438 1518
Email: click here
Website: click here


Blarney Castle, as viewed by the visitor today, is the third to have been erected on the same site. The first building in the tenth century was a wooden structure. Around 1210 A.D. this was replaced by a stone structure, which had the entrance some twenty feet above the ground on the north face.To this was added in 1446 what is the present keep in its entirety.
Situated 8km from Cork City, this historic Castle is most famous for its stone, which has the traditional power of conferring eloquence on all who kiss it. The word Blarney was introduced into the English language by Queen Elizabeth I and is described as pleasant talk, intended to deceive without offending. The stone is set in the wall below the battlements, and to kiss it, one has to lean backwards (grasping an iron railing) from the parapet walk.

The Rock Close

In the grounds of the Castle the Rock Close and its surroundings is a curious place of ancient trees and far more ancient stones, by legend a garden of druidic origin and a centre of worship in pre-Christian days. The place has an aura of magic and mystique with Wishing Steps, Witch's Kitchen, Druids' Cave and many other delights, telling a story of centuries past.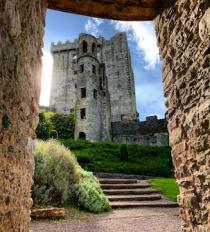 Facilities
• Gardens
• Children's play area
• Car Park
Additional Services
• Two souvenir shops
• Bureau de Change, refreshments
• Restored stableyard
• Blarney lake and wildlife, arboretum and garden walk and woodland walks.
Opening Times
Open All Year Round! Please check for opening times
In case of alteration, please check prices, opening times and any specific important information before booking or visiting