Castles Ireland
---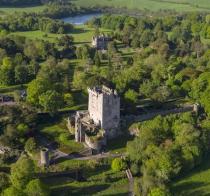 Blarney Castle , Blarney
It is no secret that Ireland and Great Britain possess a rich heritage of castles, fortifications and ruins spanning hundreds of years between the 12th and 17th centuries. The Historic Ireland web site have featured them with either descriptive text and colour images or at the very least you will find addresses, telephone numbers and a links.
Many of these monuments have been wonderfully preserved over many years and are waiting to take you back through the ages. Others have been converted into luxury hotels so whether you're looking for somewhere to visit or stay in a magnificent setting, or perhaps you are seeking an idyllic location for an Irish dream wedding, then hopefully you will find what you want within these pages.
Here are just a few that may grab your interest:- Ardgillan Castle (Dublin), Malahide Castle (Dublin), Ballynahinch Castle Hotel (Connemara, County Galway), Birr Castle (County Offaly), Blarney Castle (County Cork), Dromoland Castle Hotel (County Cork), Glin Castle (County Limerick), Kilkenny Castle (County Kilkenny), Gregans Castle Hotel (Ballyvaughan, County Clare, Bunratty Castle (County Clare), Ashford Castle Hotel (County Mayo)
Many of Ireland's castles stand proud and erect today whilst others are merely ruins but still worth a visit. There are more establishments being included weekly so please bookmark this site and return at a later date.
Castles by County
Castles in Republic of Ireland
County Carlow | County Cavan | County Clare | County Cork | County Donegal | County Dublin | County Galway | County Kerry | County Kildare | County Kilkenny | County Limerick | County Meath | County Offaly | County Tipperary | County Wexford |
Castles in Northern Ireland
County Antrim | County Down | County Fermanagh |
County Links
Republic of Ireland
County Carlow | County Cavan | County Clare | County Cork | County Donegal | County Dublin | County Galway | County Kerry | County Kildare | County Kilkenny | County Laois | County Leitrim | County Limerick | County Longford | County Louth | County Mayo | County Meath | County Offaly | County Roscommon | County Sligo | County Tipperary | County Waterford | County Westmeath | County Wexford | County Wicklow | Dublin City |
Northern Ireland
Belfast | County Antrim | County Armagh | County Coleraine | County Down | County Fermanagh | County Londonderry | County Monaghan | County Omagh | County Tyrone | Derry City |