Bed and Breakfast Ireland
---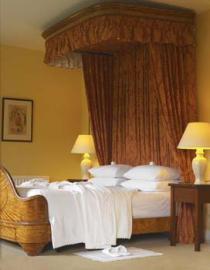 Dunraven Arms Hotel, Adare
Where to stay in Ireland.
The Republic of Ireland and Northern Ireland can offer a variety of quality accommodation to suit your requirements. There are fabulous City Centre Hotels and stylish Country House or magnificent Castle Hotels waiting to give you a warm and friendly welcome.
You may prefer Bed and Breakfast style accommodation or Pubs or Inns brimming with character. Perhaps you are the more independent type and might favour Self Catering accommodation in an old rambling rose stone cottage.
The Emerald Isle is a beautiful island awaiting your discovery and if we can do anything to ensure your visit is a success then please email helpline@historic-ireland.com with your query in the subject box and we will do our utmost to point you in the right direction.
Finally, thank you for your visit, please bookmark the page for yourself or friends and please mention THE HISTORIC IRELAND WEB SITE if you contact anyone directly.
Bed and Breakfast by County
Bed and Breakfast in Republic of Ireland
County Clare | County Donegal | County Dublin | County Kerry | County Limerick | County Roscommon | County Waterford | County Wexford | County Wicklow |
Bed and Breakfast in Northern Ireland
Belfast |
County Links
Republic of Ireland
County Carlow | County Cavan | County Clare | County Cork | County Donegal | County Dublin | County Galway | County Kerry | County Kildare | County Kilkenny | County Laois | County Leitrim | County Limerick | County Longford | County Louth | County Mayo | County Meath | County Offaly | County Roscommon | County Sligo | County Tipperary | County Waterford | County Westmeath | County Wexford | County Wicklow | Dublin City |
Northern Ireland
Belfast | County Antrim | County Armagh | County Coleraine | County Down | County Fermanagh | County Londonderry | County Monaghan | County Omagh | County Tyrone | Derry City |