Hotels in Howth, County Dublin, Republic of Ireland
---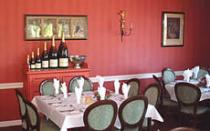 Deer Park Hotel & Golf Courses
Howth
County Dublin
Tel: +353 1 8322624
Fax: +353 1 8392405
Email: click here
Website: click here


Deer Park Hotel, situated in Howth, just nine miles from Dublin city centre and twenty minutes from Dublin Airport is located in the grounds of Howth Castle, in North County Dublin and boasts Ireland's largest golf complex. Overlooking its own parkland golf courses, the hotel enjoys breathtaking views of Irelandís Eye and Dublin Bay. The Kitchen in the Castle Cookery School and The Transport Museum are also located in the grounds of Howth Castle.
Access to Dublin City Centre is easy, via the DART, Dublinís frequent rapid rail system. A pleasant stroll will take you into the fishing village of Howth where you can enjoy some lovely walks and stop off at one of the many pubs or restaurants for some refreshments. A selection of fresh fish landed from the local trawlers features on our restaurant and function menus. To learn more about the local history, culture and heritage of Howth see our detailed guide
The decor of our bedrooms varies and they are bright and spacious ensuring a comfortable stay for our guests. The Four Earl's Restaurant uses the freshest ingredients sourced locally and the Bar is a great place to relax after a round of Golf! The panoramic views provide a wonderful backdrop for Weddings and our Conference facilities are second to none. The Spa at Deer Park offers a wide range of relaxing treamtents to suit everyone. Wi Fi in public areas and Surf Box Internet in Residents Lounge.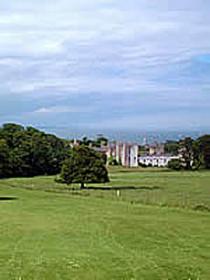 Facilities
Parking, Swimming Pool, Tennis Courts, Sauna and Steam room
Restaurant
The Four Earls Restaurant - Modern cuisine with an emphasis on fresh fish.
Weddings and Conferences
WEDDINGS AND HONEYMOONS IN HOWTH, CO. DUBLIN
Situated in the grounds of Howth Castle with panoramic views over the golf courses, Ireland's Eye and Dublin Bay, the Deer Park Hotel is the ideal setting for your wedding, conference or function.
CONFERENCES IN HOWTH, CO. DUBLIN
Deer Park hotel welcomes your conference or meeting whether large or small. Our airy, well appointed room with views over Dublin bay encourages a relaxed atmosphere.
Leisure facilities
Golf, Fishing, Riding, Historic Houses, Museums nearby.
Further Information
GOLF AT DEER PARK
Deer Park Hotel in Howth, North County Dublin boasts the largest golf complex in Ireland with 4 golf courses and a pitch and putt course all designed by the well known golf architect, Fred Hawtree. In addition to the main 18 hole golf course, the Deer Park (6915 yards par 72), there are two demanding 9 hole golf courses, the Grace OíMalley Course and the St Fintanís Course, which can be played as 18 holes(6480 yards par 72). There is also a full length 12 hole Par 3 golf course and an 18 hole Pitch and Putt course.
The wealth of golf courses means that visitors with no reservation can always get a game. At busy times there may be a wait and visitors are advised to book. We only accept bookings for individual tee times on the internet from this site; we do not accept bookings for single games by telephone. Groups and golf societies should contact the hotel well in advance of the date they wish to book to ensure they get the times they want. Hotel guests should book through the hotel to reserve their tee time ahead of other visitors.
In case of alteration, please check prices, opening times and any specific important information before booking or visiting