Places to Visit in Ferrycarrig, County Wexford, Republic of Ireland
---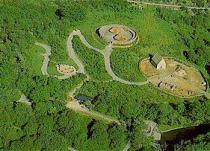 Irish National Heritage Park
Ferrycarrig
County Wexford
Tel: +353 53 91 20733 
Fax: 353 53 91 20911
Email: click here
Website: click here


A visit to the Irish National Heritage Park is like no other you can imagine. Surprises await around every turn as you explore 35 acres of this remarkable heritage trail.
From campsite to Ringfort, from mill to Fulacht Fiadh, from Crannog to Viking house, every activity is an unexpected adventure into 9000 years. The world you enter is an authentic recreation of Ireland's heritage. Homesteads, places of ritual, burial modes and long forgotten remains will enlighten the casual visitor and interest the scholar. See our Celtic farm with it's ancient breed animals.
Everywhere you go there are opportunities for discovery and learning.  Chat with our guides and share these discoveries, delight in the tour and experience the grinding of grain in the Horizontal Water Mill.
Within the park, children have a unique opportunity to experience Ireland's heritage in an enjoyable and relaxed atmosphere. Special programmes and family fun days are here to entertain and delight children, it is a place where history is happening everyday.
Whether you join us for an hour or an afternoon, every visit to the Irish National Heritage Park will be a time you will never forget.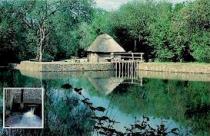 Facilities
Historic House, Gardens, Restaurant, Tea Room, Picnic Area, Car Park, Private Group Tours, School Tours Available,
Restaurant
FULACHT FIADH RESTAURANT and CRAFT SHOP
Irish hospitality and Wexford charm combine with all the modern facilities to make your visit a time to remember.
Before you leave, see our craft and book shop with its wide range of designer clothing and quality Irish crafts.
You can also sample fine Irish cuisine in our restaurant, eat out on the terraceand savour the sensation of the Crannog and lake awash in the colour and fragrances of Ireland's past.
Weddings and Conferences

CONFERENCES IN FERRCARRIG, COUNTY WEXFORD
In the centre we have one meeting room for up to twenty people, with complete privacy. Tea, Coffee and soft drinks can be provided.
There is also the Audio Visual room with theatre style seating for 60 and is equipped with screen and projection facilities. Other technical requirements can be sourced if required.
After or during your day of meetings you can enjoy pre-dinner drinks and a full meal, or why not complete your meeting with a full Celtic Banquet. Just look at the sample menu below.
Experience our professionalism and hospitality, sample our attractions. When it comes to organising a conference or incentive trip, the Irish National Heritage Park is the ideal location. Whatever the occasion, we can organise the event.
Located only one and a half hours from Dublin or ninety minutes from Wales, we are ideally located for your next business or conference trip.
In case of alteration, please check prices, opening times and any specific important information before booking or visiting