Gardens in Malahide, County Dublin, Republic of Ireland
---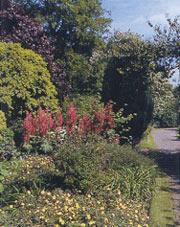 Talbot Botanic Garden
MalahideCastle
Malahide
County Dublin
Tel: 00353 1 8905629:
Fax: 00353 1 8905649
Website: click here


HISTORIC COUNTY DUBLIN
The Talbot Botanic Garden is a 22-acre garden within the 290-acre estate of Malahide Castle. The Castle was home to the Talbot family for 800 years until the death of Lord Milo Talbot in 1973. The local authority aware of the importance of the Castle and the very fine plant collection that Lord Milo Talbot had built up purchased the estate in 1976. To day the castle is open to the public all the year round while the gardens are open from May to September.
The gardens were largely created by Lord Milo Talbot from 1948 to 1973 and cover an area known as the 'West Lawn' of 6.6ha (18 acres) of shrubbery and a Walled Garden of 1.6ha (four acres). The plant collection numbers almost 5,000 species with a particular emphasis on Southern Hemisphere plants. It is renowned for its Australasian and Chilean species. The 'West Lawn' has a very wide ranging collection of genera in particular Nothofagus, Pittosporum, Berberis, Hoheria, Hypericum, Syringa, Escallonia, Deutzia and the NCCPG collection of the genus Olearia that now numbers 55 species and varieties.
The Walled garden of 1.6ha (four acres) includes many of the more tender and rarer species. This garden is sub-divided into many sections each with its own particular range of plants including alpines, Australasian plants and herbaceous plants. It boasts seven glasshouses, ranging in size from a small Victorian display house to a most elegant Victorian Conservatory that the Council acquired in 1990. Within this garden plants to note are Eucryphia milliganii, Acradenia frankliniae, species of Bomarea surviving outdoors and Passiflora spp. of which Passiflora antioquiensis is most stunning. One of the smaller houses has a collection of Primula auricula varieties. The plant collection is continually being expanded with the addition of new and tender species.
Facilities
• Gardens
• Tea Room
• Picnic Area
• Children
• Car Park
• Private Group Tours by arrangement
• School Tours Available
In case of alteration, please check prices, opening times and any specific important information before booking or visiting