Places to Visit in Dublin 8, County Dublin, Republic of Ireland
---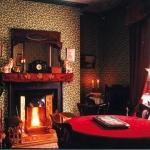 The Shaw Birthplace
33 Synge Street,
Dublin 8
County Dublin
Dublin 8
Tel: + 353 1 475 0854
Fax: + 353 1 872 2231
Email: click here
Website: click here


'Author of Many Plays' is the simple accolade to George Bernard Shaw on the plaque outside his birthplace and his Victorian home and early life mirrors this simplicity.
The first home of the Shaw family and the renowned playwright has been restored to its Victorian elegance and charm and has the appearance that the family have just gone out for the afternoon. The neat terraced house is as much a celebration of Victorian Dublin domestic life as of the early years of one of Dublin's Nobel Prize winners for literature.
It was in this house, opened to the public in 1993, that Shaw began to gather the store of characters who would later populate his books. From the drawing room where Mrs. Shaw held many musical evenings, to the front parlor and children's bedrooms, this charming residence is a wonderful insight into the everyday life of Victorian Dublin.
Opening Times
May-September: Monday-Friday, 10am - 1pm & 2pm - 5pm, Closed all day Wednesday. Saturday, Sunday & Public Holidays 2pm-5pm.
In case of alteration, please check prices, opening times and any specific important information before booking or visiting
The Gresham Hotel
, Dublin
Dublin City Hotel
, Dublin
Academy Hotel
, Dublin
The Plaza Hotel
, Tallaght
Park Inn Dublin
, Dublin