Places to Visit in Glin, County Limerick, Republic of Ireland
---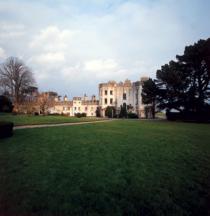 Glin Castle
Glin
County Limerick
Tel: +353(68) 34 173

Fax: +353(68) 34 364
Email: click here


29th Knight of Glin and Madam FitzGerald welcome you to their home.

Glin Castle. stands proudly in the middle of its 500 acre wooded demesne on the banks of the river Shannon. The toy-fortress like quality is echoed by its three sets of battlemented Gothic folly lodges, one of which is a tea and craft shop.

The present Glin Castle which succeeds the medieval ruin in the village of Glin was built in the late 18th century with entertaining in mind. The entrance hall with a screen of Corinthian pillars has a superb neoclassical plaster ceiling and the enfilade of reception rooms are filled with a unique collection of Irish 18th century mahogany furniture. Family portraits and Irish pictures line the walls and the library bookcase has a secret door leading to the hall and the very rare flying staircase.

After a stroll in the well-kept pleasure grounds and walled garden, or the woodland walk to the grotto, the Sitting room with a crackling wood fire makes an ideal cosy gathering place for drinks before dinner.

The Diningroom windows catch the setting sun reflected in the river in the evenings. This room is filled with baronial oak furniture and a gallery of former Knights inclucling a number of notable eccentrics such as "the Knight of the Women" and "the Big Knight".

Across the hall, the Drawingroom has an Adam period ceiling, a beautiful Bossi chimneypiece and six long windows which overlook the croquet lawn. After-dinner coffee and conversation frequently takes place here.

Upstairs there are individual sets of bedrooms, bathrooms and dressing rooms. Wall-to-wall carpets are scattered with rugs, and chaises longues stand at the end of comfortable, plump, chintz-covered beds. Pictures and blue and white porcelain plates adorn the walls. The bedrooms at the back of the castle overlook the garden, while those at the front have a view of the river.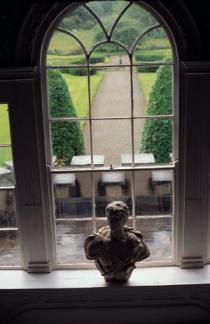 Facilities
• Historic House
• Gardens
• Car Park
• Private Group Tours,
Prices per Person unless specified
Adult: £7.00

Child: £7.00


In case of alteration, please check prices, opening times and any specific important information before booking or visiting