Places to Visit in Limerick, County Limerick, Republic of Ireland
---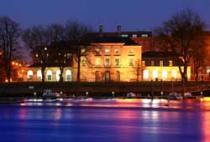 Hunt Museum
Rutland Street
Limerick
County Limerick
Tel: +353 61 312833
Fax: +353 61 312834
Email: click here
Website: click here


The Hunt Collection is housed in Limerick city's finest eighteenth century building The Custom House, an elegant Palladian style building designed by the Franco-Italian architect Davis Ducart. This collection contains a dazzling assemblage of objects and enhances Limerick's profile as a major cultural centre of national and international significance. John and Gertrude Hunt selected each piece in the collection according to the quality of its design, craftsmanship and artistic merit.
It is not just the big names such as Picasso, Renoir and Gauguin which afford the Hunt Collection its legendary status but also the superb quality of the work on display by anonymous craftsmen. Each piece encourages a sense of curiosity and wonder. While there are chronological and thematic groupings, often the objects are mixed together as this is how they were presented during their time as a private collection in the Hunt family home. The cultures of ancient Egypt, Greece and Rome are represented, as well as Irish archaeological treasures such as the Antrim Cross of c.800. This is one of the rare bronze crosses to survive virtually intact from one of the greatest periods of Irish craftsmanship. The collection also features many items of medieval religious art from all over Europe. Walking through the galleries the list of interesting objects is endless. Depending on your taste you can gaze in wonder at jewellery, porcelain, sculpture, reliquaries, paintings, silver or glass. All illustrate the progression of craftsmanship and the decorative arts through the ages - people's craftsmanship is what the Hunt Museum celebrates.
The Hunt family generously donated the collection to the people of Ireland so that the interest and pleasure they derived from it might be shared by as many people as possible. John Hunt believed a nation's past to be part of its soul and that to enrich a people they must be given a respect and true understanding of the past.
Facilities
• Historic House
• The Hunt Museum Gift Shop and Hunt Café
• The Gallery at The Hunt Museum features a year round programme of events and temporary exhibitions
• Full wheelchair access
Weddings and Conferences
The facilities of the museum may be hired outside our normal opening hours. The museum is an excellent venue for evening entertainment, receptions, functions and launches. We offer bespoke packages - everything from lecture facilities to receptions, private tours and dinner parties.


Opening Times
Mon to Sat 10am-5pm
Sun 2pm-5pm
Further Information
Please refer to website for more information on holiday opening hours, programmed events and admission prices www.huntmuseum.com
In case of alteration, please check prices, opening times and any specific important information before booking or visiting